UPFEST 2013 - The Urban Paint Festival

Poslední květnový víkend proběhl v Bristolu další roční urban festivalu UPFEST 2013. Nostalgické ohlédnutí můžete prožít v reportu z roku 2010. Lokaci si můžete proběhnout pomocí mapy a streetview (aktuálně zaměřena na Upfest Gallery).
UPFEST 2013 - The Urban Paint Festival
25. - 27. 5. 2013
North Street - Bristol
Artists: 20/20, 237 Project, 3rdEye, 45 RPM, Abide, Acerone, Afekt, Agent Provocateur, Airbourne Mark, Alex De Querzen, Alex Maw, Alias, Ame72, Ames, Andy Council, Army Lion, Aroma1, AsOne, Aspire, Avian Security, Beating Arts Collective, Beautiful Bugs of Bedminster, Beezer, Ben Oakley, Ben Slow, Biggulps, Bintykins, Blam, Boe, Books, Boon, Boswell, Bungle, Bustart, Canvaz, Carleen De Sozer, Casiegraphics, Cheo, Chibalove, Copyright, Crack 2, The Return of Cretin, Cretin Collective, Crispy, CZK, Dale Grimshaw, Damo, Dan Kitchener, Daniel Doebner, Daniela Reed, Danny O'Connor, David Veroone, David Walker, DBO, DDG, Deconstruction - Smug & Epok, Deeds, Delete, Dell, Detox Crew, Deuz, Dicy, Din Din, DNT, Dom W, Don, Don John, Dora, Dusk One, Emsey, European Bob, Everly Dark, Eyesaw, Fake, Famous When Dead, Farkfk, Faunagraphic, Fetch, Finbarr DAC, Fingerfood, Flitbomb, FLX, Foundry, Frank Styles, Funky Red Dog, Gemma Compton, Gemma Kulczak, Glamrury, Goin, Grafter, Guy Denning, GVD, HB, Heger, Hoshiko, Huffer 32, Hush, Iain Sellar, Ian Phenna, Ian Walker, Id-iom, Ill Joseph, Indigo, Inkie, Iria, Irony, Ives.One, Jack 'Dones' Tierney, Jakob Belbin, Jam Free, James Baker, James Daws, Jess Hartridge, Jethro Grimes, Jim Starr, Jimbob Isaac, JK 47, Jo Peel, JOAB, Jody, John Curtis, Julian Kimmings, K-Guy, K74, Karl Read, Kato, Kev Munday, Khoi, Kid 30, Klingatron, Kone, Korporate, Kris Trappeniers, Krishna MallaLee Ellis, Leeks, Leftery, Les Enfants Terrible, Les LiOnNeS eN cAgE, Levi C, Lewis Campbell, Liliwenn, Lilz, Lispencie, LL Brainwashed, Loch Ness, Logan Hicks, Lokey, Louis Michel aka Masai, Luvm, Malarky, maniac, Mared, Martin Rimmer, Martin Whatson Martine Birobent, Matti, Max Gregor, Maya, Mclevey, Milk, Mimic, Mish Mash, Mishfit, Miss C, MO75, Monkyartprints, Mos, Mr Fahrenheit, Mr Jago, Mr Kemp, Mr Penfold, Mr Shiz, My Dog Sighs, Myne, N4T4, Narcoze, Nathanael Draws, Nick Raven, Nick Walker, Nigel Oddy, Nik Ill, Nine-O, Nol, Numb, Old Master, Oli-T, Oliver Winconek, Optiknerve, Otto, Pahnl, Paris, Paul Matthews (Festa), Pete Street, Phil Blake / Philth, Phil Harvey, Pikto, Pirao, Pistol, Please Flush, Porg, Process, Prost, Psychonautes, Raffiki, Readerswives Collective, Reckon, Remo, Resko 84, Retroboy, Rob Wass (Data), Rocket01, Roo, Roo & Lady Rinth, Rourke Van Dal, RSH, Ruby Bentley, Run Pig Run, Ruso, Ryca, Sam Marsh, Schlomo, Sebastian Pape, SEPR, Sergei, Sharon Shum, SINNA1, Skie one, Smates, Smidge, Snik, Snub23, Soap, Solo One, Solus, Soulful, Spacehop, SPQR, Spzero76, Squirl, stae, Starchild, Starvinartist, Stedhed, Stein, Stephen Ball, Stickee, Stik, StuArt, Stuk, T.Wat, T3, TankPetrol, Teddy Baden, The Art Tart, The Essex Rockers, The Fly, Theodore, Tic, Tinkicker, Tom Hine, Tona, Tony Trowbridge, Tribe One, Turo, Ugo, Union Copyright & Gemma Compton, Unit 91, Unknown, Vermin, Vic Ruspin, Vicious Circle, Wearethreeargh, Wilde, Wize, X10, ZachB, Zaira, Zalez, Zase, Zeezee, Zier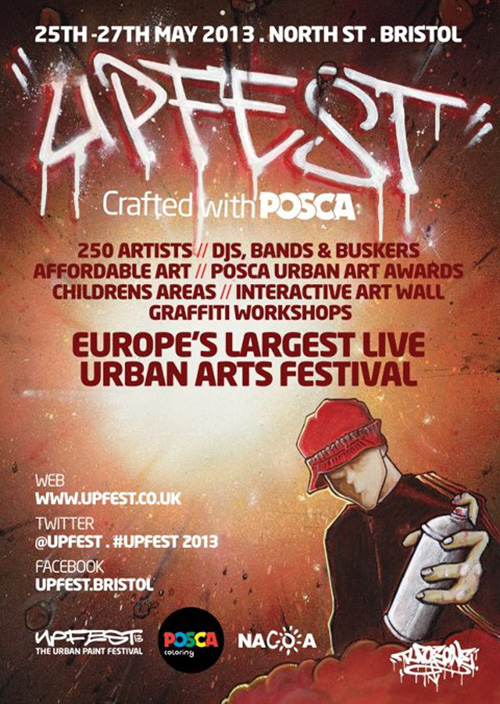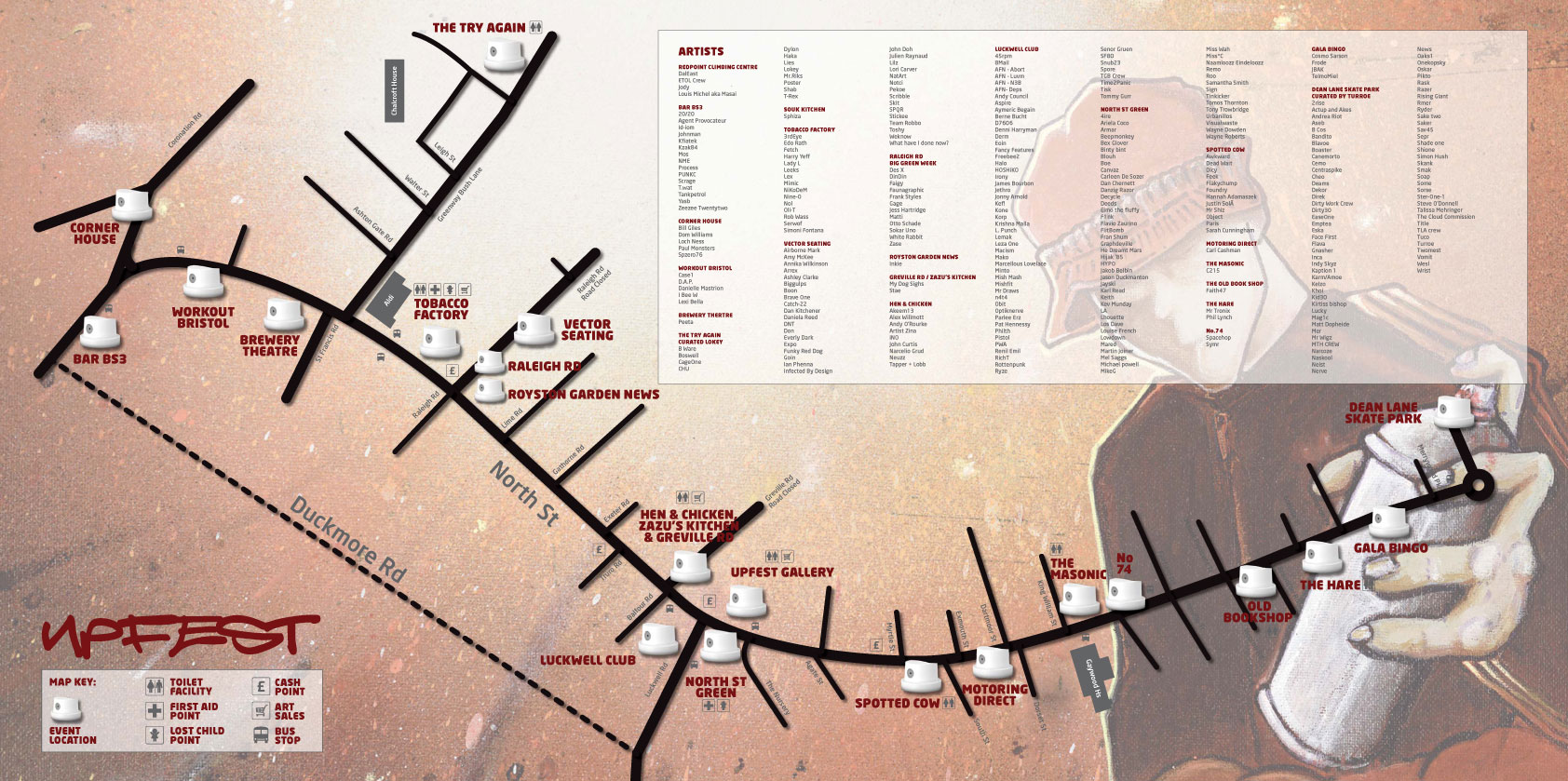 Upfest 2013 - Bristol, UK (25.-27.5.2013) | foto © Welz
MP3 Bank
Akce
Belárie / Orionka, ul. Mezi Vodami, Praha 4 - Modřany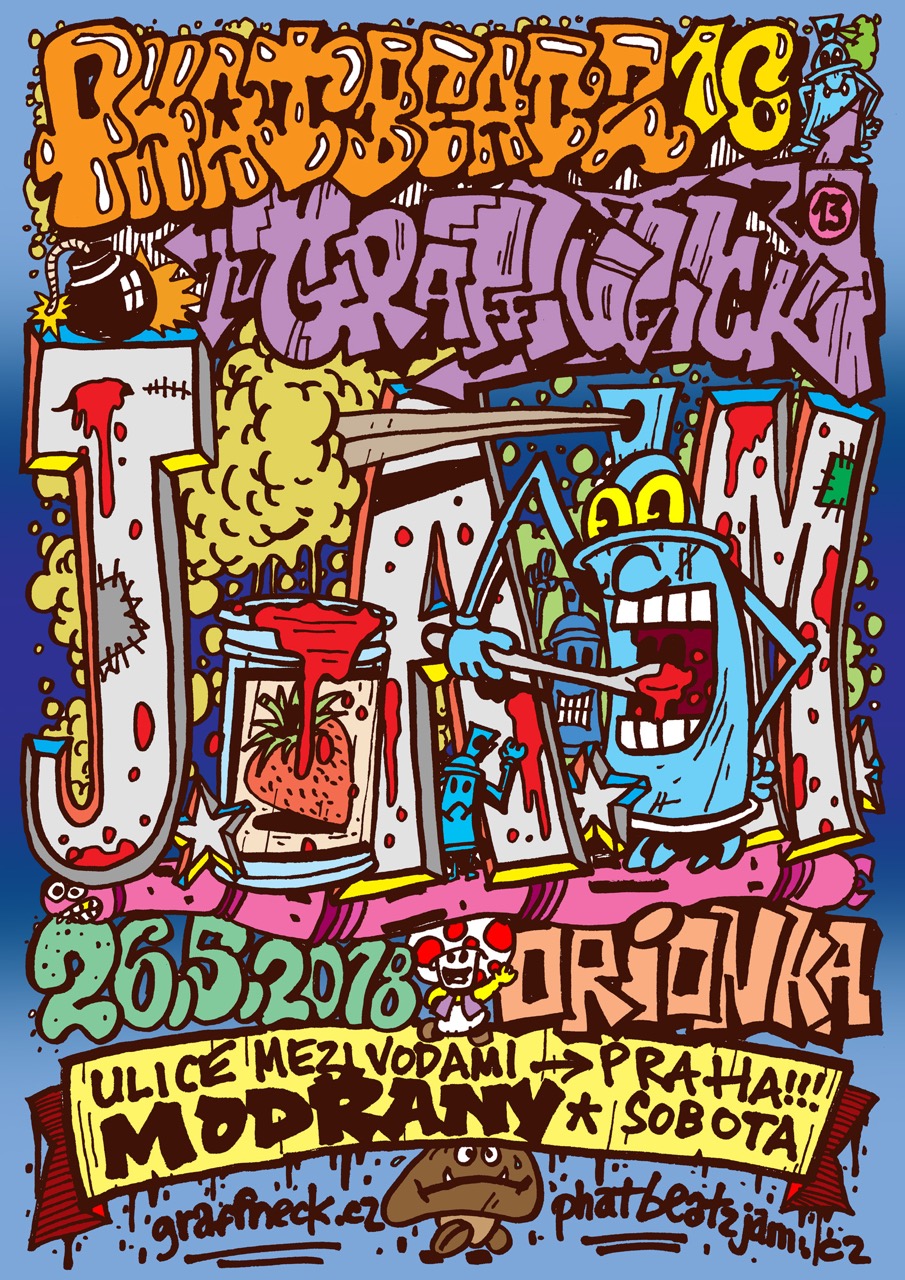 Po roce pauzy je zpět jam k dvojitému výročí.
Server PhatBeatz.cz slaví 16 let monitoringu hry.
Urban store Graffneck slaví 13 let ve hře.
začátek: 12.00
vstup: zdarma
info: www.phatbeatzjam.cz / www.facebook.com/events/1763767683688381
16.6.2018 (

14:00

-

21:00

)
Plechárna, Bryksova 1002/20, Praha 9 - Černý Most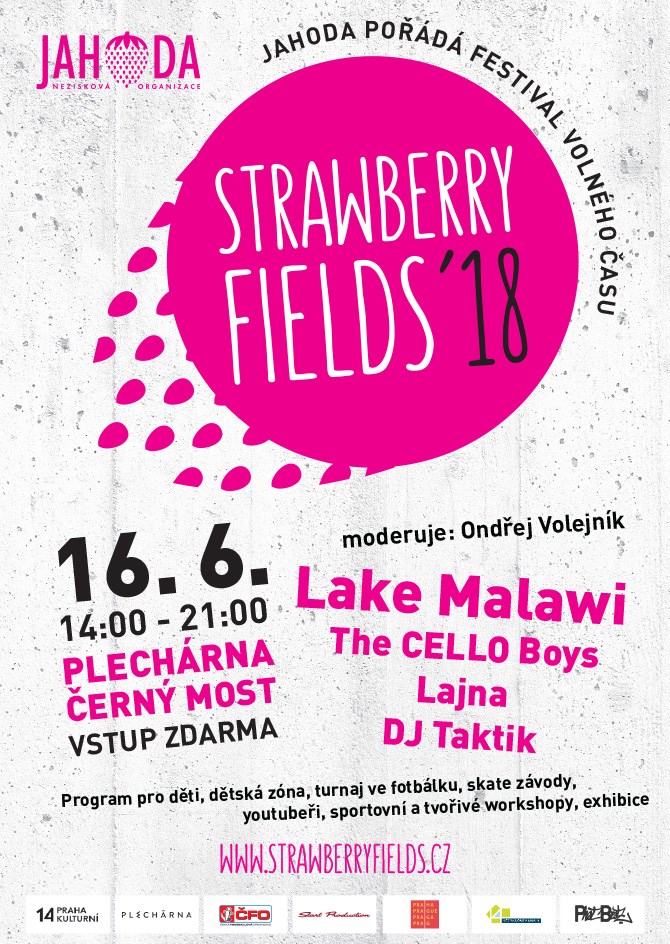 Live: Lake Malawi, The Cello Boys, Lajna
DJs: Taktik
Speaker: Ondřej Volejník
Doprovodný program: Kanjam, Roundnet, Indo Board, Elements Crew, Pole dance, Nany Hoops, …
Sedmý ročník volnočasového festivalu Strawberry Fields.
začátek: 14.00
vstup: zdarma
info: www.strawberryfields.cz / www.facebook.com/events/224537358096824